On Sunday 11th October, Nottingham Women's Centre hosted our sixth Power to the Women event, open for any self-identifying women in Nottingham. On this occasion, the event took place on Zoom due to COVID-19 restrictions. A recording of the session is still available to watch here via Facebook.
Audience members had the opportunity to attend an online panel followed by an interactive discussion; both focussed on environmental activism in the Nottingham area. Speakers on the panel were invited to talk about their own specialist approaches to environmental work and activism:
Nadia Whittome – Labour MP, Nottingham East

Sally Longford – Labour Councillor, Lenton and Wollaton East

Dr Sarah Gretton – Associate Professor, Natural Sciences Programme, Director at Uni of Leicester

Emma Lewis-Jones – Decolonise, Decarbonise, Under 30s fighting for global justice
During the online panel our guests discussed the climate and ecological emergency, exploring what is being done in Nottingham, methods of engagement, and activism in the face of Covid-19.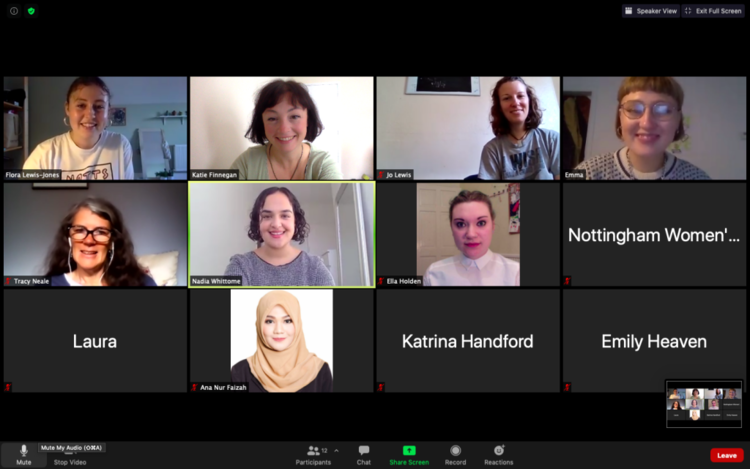 Nottingham's response to the climate crisis has included innovative projects such as the Carbon Neutral 2028 target and NCT Bio-Gas buses, with inspiring ongoing action taken by movements such as Decolonise Decarbonise, XR Nottingham, Youth Climate Strikers and workers' strikes over climate.
Common themes raised by speakers during discussion were the importance of education and the creation of opportunities for more people to engage actively with the climate emergency. Sally Longford suggested finding ways for people to engage with their community using practical activities, such as the creation and use of community gardens and vegetable growing, bringing communities together and opening opportunities to learn about the environment.
When discussing the urgency of educating people on the scale of the climate crisis, Emma Lewis-Jones highlighted the lack of information provided by those in power, leading to low levels of public engagement and insufficient action taken by public bodies, such as schools, councils, governmental bodies, NGOs and charities:
"A national, as well as a local effort to educate and to make clear what is happening, on a global scale, is what needs to happen most urgently." 
This need for engagement across wider audiences raised further discussion on how the climate crisis disproportionately impacts different social groups. Nadia Whittome stated:
"As legislators, politicians and activists, we need to show how those issues are connected."
With inequality and social injustice creating barriers for engagement, there was a clear agreement that there needs to be more focus on engaging with communities, working towards solving social issues such as mental health, housing and food inequalities to create space for more people to focus on climate change.
Both speaking from backgrounds in environmental activism, Dr Sarah Gretton and Emma Lewis-Jones drew focus onto the positives that can come through environmentalism:
"We can work to empower women to take action and to take to the streets" 
Nadia Whittome also spoke about the importance of having women at the centre of a green recovery plan. There was further emphasis on the importance of investing in the care sector, thus creating 2 million green jobs. This would not only help to close the gender employment gap but would simultaneously address both the social care crisis and the climate crisis simultaneously:
Against the background of a global pandemic, with Nottingham having the highest infection rate in the UK (BBC News), speakers were asked how we can rebuild after Covid-19 in a way that also tackles the climate emergency.
With further emphasis on how environmental jobs and investment, especially into the care sector, can help with the climate emergency, Nadia speaks of "reimagining democracy", with increased need for climate assemblies and climate-aware trade union branches.
Working in virology (the study of viruses), Dr Sarah Gretton spoke of the inevitability of this, and future, pandemics but also addressed how quickly different industries and individuals adapted to the pandemic. Our Government's ability to react quickly to this crisis (Covid-19) demonstrates our capability to address the climate crisis.
Sarah also credited the work of environmental activists, which has been crucial in getting us to where we are today:
"To have a Conservative government that is mentioning 'green' deal as part of a recovery, is important."
Although the lockdown period provided many of us with time to self-educate and reflect on issues such as climate change, Covid-19 has generated a huge amount of argument and discussion, both in parliament and in the media, leaving people feeling overwhelmed with other social responsibilities.
Many enlightening ideas were shared at the event, drawing attention to required changes in the public sector, such as investment in both education and community sectors and the creation of 'green jobs', as part of a 'green recovery'.
During the interactive session, participants considered their own relationships with the environment and ways in which our lifestyles can be adapted to help combat climate change. The importance for individuals to continue engaging with activism lies clear, and for women especially, to utilise their voices in targeting the government, local councils and corporate bodies with hope of saving the planet.
"Pandemic is a symptom of a world consumed by greed and growth. We need to rethink a system that benefits communities and nature, and dismantle capitalism"
Emma Lewis-Jones
Useful Links
Get Involved
Follow

Decolonise, Decarbonise:

Nottingham's under 30s fighting climate injustice + anti-racist allies of the global south on Instagram

here

.

Find out more about

XR Nottingham

here

.
Contact
Sally Longford:

sally.longford@nottinghamcity.gov.uk

Emma Lewis-Jones:

Instagram and Twitter: @emmalewj

Nadia Whittome:

Instagram and Twitter @nadiawhittomemp
Event curated by, and this post written by: Flora Lewis-Jones