Established in 1971, Nottingham Women's Centre is one of the oldest Women's Centres in the country.
Our beginnings coincided with the second wave feminist movement of the late twentieth century. Both internationally and locally, women of the time were coming together to fight against the patriarchy.
The first National Women's Liberation Conference was held in 1970, bringing together disparate actions under a burgeoning umbrella movement. Women championed demands for: equal pay; education and job opportunities; free access to contraception and abortions; an end to homophobic discrimination; and an end to violence against women. The Centre quickly became a space to hash out these demands and spark a long-standing movement in the Midlands.
Since then, the Centre has only grown in its outlook and outreach, supporting all self-identifying women looking for mental health support; seeking asylum; facing poverty; escaping abuse; and pursuing a change in their lives. The Centre also provides a safe, warm and friendly environment for women to use on a day-to-day basis.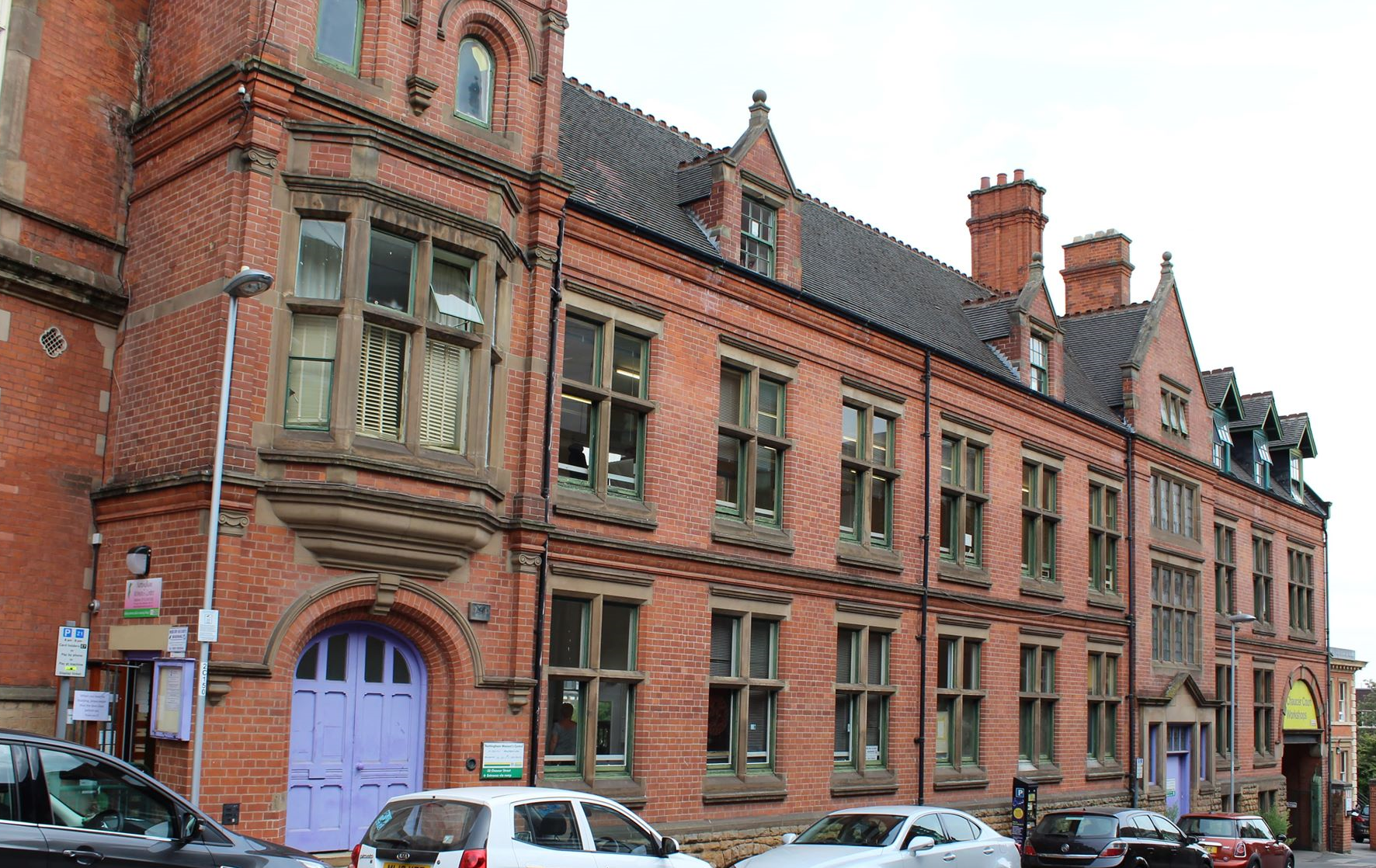 Geography & Location
When the Centre was first founded in 1971 , it set up its base on Pelham Street in central Nottingham.
Soon after, the Centre relocated to a new space on Angel Row. It was here that the Nurseries Campaign and the Women's Abortion and Contraception Group were established, and where the Women Now magazine (est. 1960s) met on a Thursday evening to discuss editorials which would propagate feminist values and address neglected subject matters.
By 1978, the Centre had found a new home at Shakespeare Street. Though the building suffered from rot and damp, it created a new and energetic space for regional women's organising to blossom.
In the following decade, activist Susie Daniel was intent on finding a more secure and long-lasting location for the centre. After days of push-biking around Nottingham city centre, Susie located a fitting building on Chaucer Street. Built in 1889, the building was spacious and secure, and possessed an intriguing history. After campaign funding was undertaken by Jane Todd the following year, planning began for the new Women's Centre in 1985. Chaucer Street has remained our home to this day.
Services, Solidarity & Support
In the many decades of our existence, we have been a hub of solidarity for self-identifying women from all walks of life. Recognising the intersections of ethnicity, class, gender, disability and more, the Centre has always worked to create a welcoming space for all women.
Services that work from the Centre include Juno Women's Aid and Nottinghamshire Sexual Violence Support Services. As well as this, we host community groups such as Heya Arab Women's Group and Nergiz Kurdish Women's Group. We also work with dozens of other local women's groups and projects through our partnership work and Women's Organisations Network.
We also have a long history of providing a safe space away from homophobia and transphobia. Sisterhood went beyond heteronormative frameworks, and the Centre was used by Nottingham's Lesbian Group from an early juncture. In more recent decades, the Centre has explicitly championed and safeguarded our city's LGBTQ+ community. We have been explicityly trans inclusive since 1998 – you can read more about that on our trans inclusion page.
Our long history of anti-discrimination, inclusivity, equality and diversity remains key to our heart and our function at the Nottingham Women's Centre.
You can find out more about the history of the Centre, and of feminism in Nottingham, by reading Women's Liberation in Nottingham: A Portrait by Natasha Picôt which is available in Nottingham Women's Library (on the top floor of our building!)
This page was written for us, using that book as a guide, by Lily Gordon Brown.