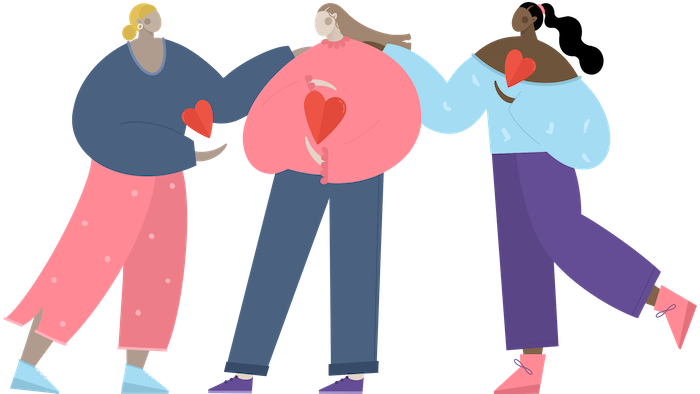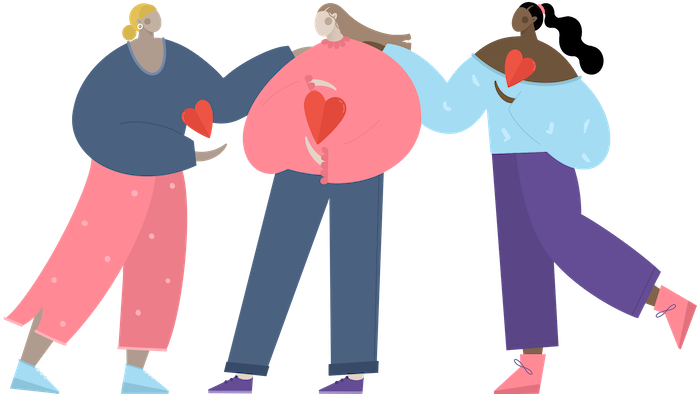 Volunteers help us run support groups such as Crafty Club, they help us campaign and organise events, they offer an immense foundation for our counselling services and they even run Nottingham Women's Library!
Volunteers are an integral part of the work of the Centre and without them we wouldn't be the organisation we are today.
We work to support them to work towards their goals such as developing work-based confidence, meeting new friends, gaining practical skills or progressing into a career. We know it can be daunting to return to work after spending time bringing up children or having a period of time away. Volunteering helps many women develop new skills, maintain skills during periods of unemployment and increase overall confidence.
I've been working with the Volunteers since January 2020 and have been amazed by their passion, dedication and love for the Centre. I feel very lucky to work with such wonderful women. I'd like to say a massive thank you to each and every one for everything you've done for Nottingham Women's Centre and our women.

Rebi, Volunteer Coordinator at the Centre.
Hear from our volunteers!
I am grateful for all of the wonderful women that come to our Wednesday conversational classes, eager to learn about new topics and chat with our volunteers about the quirks and frustrations of the English language.

Hannah – Conversational English volunteer
Being a Volunteer at NWC means for me so so much. It has given me so much confidence that I learn a craft one day, teach it the next. This Brené Brown quote sums it all up for me: "Until we can receive with an open heart, we are never really giving."

Paula – Photography and Events volunteer
Nottingham Women's Centre means a lot to me. It has helped me career wise. It has also helped me personally as I have gained in confidence since being part of the Centre. The other volunteers and staff are all awesome women and the Centre itself is a welcoming, calm and safe space I am proud to be a part of.

Nicola – Crafty Club and Events volunteer
When I first came to the Centre I was in a mess – emotionally and physically and mentally abused. The Centre, over time, helped me with everything, especially building up my confidence to battle my fears. It's not an easy road to go down. I would help anyone to recovery that's been through the same issues as myself – being a volunteer enables me to do this and there is no safer place than the Women's Centre.

Debs – Crafty Club and Events volunteer
In Nottingham Women's Centre, I meet and work with people with different backgrounds and experiences. I love to listen to their stories, and share the thoughts. It helps me know myself better, and makes me feel more confident.

Mulan – Conversational English and Film club volunteer.
I am very proud to be a part of the amazing team at the Nottingham Women's Library. I love welcoming readers into the inviting book-filled space, and promoting it outside the Centre – particularly an opportunity to do so in Oxford. There, I met wonderful women from institutions all over the U.K. doing inspiring work so that the voices of women everywhere shine. A brilliant experience for which I am grateful.

Sally – Library volunteer
Being part of the Women's Centre library is a wonderful and fulfilling experience. I love the team I work with and supporting women in the Centre through providing a safe, welcoming and inclusive space.  

Nicola – Library volunteer leader
Me and my mum, Deborah, have been partaking in the food delivery service since lockdown was implemented throughout the UK. Me and my mum collect the food and deliver it across the city from NG2 to NG5 to NG8. The service has worked brilliantly, and we have received some really positive and encouraging feedback. It is systems like these which are imperative during these times, ensuring women in need don't fall through the cracks of our institutions, which is so often the case.

Lily – Food delivery volunteer
Current volunteer opportunities
Sadly, due to high levels of demand we are unable to accept general applications to volunteer with us. However, we do post details of any available volunteering opportunities on our Facebook page and other social media channels whenever they arise.
Before the pandemic we'd collected surplus food from supermarkets to take into the Welcome Space at the Centre where it was enjoyed there or taken home. When we had to close our building but still had food available, we looked at an alternative way to get it to women in Nottingham.
We worked with many women who didn't meet the criteria for food banks yet still found money tight, as well as many women with children at home who found access to food becoming more complicated. Some women had to self-isolate and couldn't go shopping, while single mothers were having to shop with their children in tow.
We wanted to address these issues, so decided to set up a regular food delivery service to help women who were struggling across the city.
We did a call-out to our amazing volunteer team and asked if anyone who could drive was available to help out. These volunteer drivers collect the food from staff members' homes, where it had already been split into parcels (taking into consideration size of family and dietary requirements) and then they left them on the women's doorsteps every Tuesday. We usually received bakery goods, fruit and vegetables, but one week we were donated Peppa Pig cakes which were lovely to give to households with children!
We received really positive feedback from the women receiving the food, one woman said: "We are so happy for it – we're having sandwiches in the garden this afternoon."