Whatever you're looking to achieve, we can offer support and guidance that feels right to you.
We have a range of courses and activities available from our friendly space in Nottingham city centre. If you feel that you'd benefit from one-to-one support, we can arrange for you to have a Welcome Meeting with one of our caseworkers to decide a plan together.
We're an autistic-friendly organisation and will do all we can to make your time with us as easy as possible. Just let us know if you'd like a quiet place to wait, or anything else to make your visit more welcoming.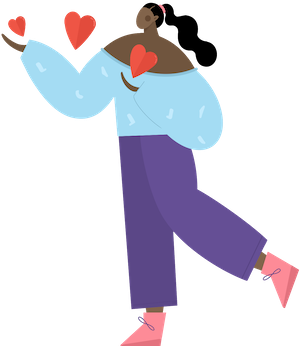 Please be aware that our current waiting time for a Welcome Meeting is approximately 4 weeks.
You don't need a meeting to visit us!
All of the courses and activities on our website are open for you to attend, regardless of whether you're already linked in with the Centre. Keep an eye out for our 'coffee and chat' sessions if you fancy something informal – they're a great opportunity to get to know the Centre, meet new people, and grab a slice of cake.
You can also come and visit our Welcome Space for a cup of tea (with friends or alone!) any time you like, during our opening hours. If you want to find out more about what the Centre does, ask Reception for some extra information. If you want to visit Nottingham Women's Library you can also do that at your leisure – no need to book.
If you would like to access some one-to-one support, you can do so by booking a Welcome Meeting – find out more below.
About Welcome Meetings at NWC
Welcome Meetings are a simple, friendly introduction to the services we have here at Nottingham Women's Centre. We offer them to all women who think the Centre's support might be right for them.
We use them to learn a little bit about you and your needs, and you can use them to find out what support is on offer in a range of different life areas. You can either self-refer (just give our friendly Reception team a call!) or be referred into them by your GP, probation officer, social prescriber or support worker.
You might decide you want a Welcome Meeting because:
You're feel isolated
You're experiencing disadvantages that make your life harder
You're struggling with how to access support
You're worrying about financial, housing or accommodation issues.
Welcome Meetings happen with a member of our friendly Caseworker team and take place either virtually or face-to-face. They are available for all self-identifying women who think the Centre might be able to support them. The initial meeting lasts up to an hour.
What can we help with?
Benefits advice
Women without recourse to public funds
Financial guidance and support (including clothes and/or food bank referrals)
Assistance for women experiencing domestic violence
Support coming out of the Criminal Justice System
Access to learning courses
Education training
Activities centred around emotional wellbeing
Volunteering
Drug and alcohol support (we're not a crisis centre or frontline service but we can offer wraparound support)
Social inclusion
What happens next?
During your Welcome Meeting you'll decide together with one of our Caseworkers whether the support on offer sounds right for you. If it does, we might be able to build an action plan together of what your particular path should include. It might be that you come to us with a specific employment goal or educational aim to work towards, or you might be struggling with self-confidence and want to find a supportive space to grow at your own pace.
Whatever it is you're looking to achieve, if we do build a plan together we'll set it at whatever pace feels right to you. You might work with us for three weeks, or it could be three months. Wherever possible you'll work with the same Caseworker, so that you know you always have the same friendly and reliable support open to you.
All of our work is person-centred, meaning you decide what's right for you. We also work in a trauma-informed way which means we acknowledge the impact trauma may have had in your life and will try to identify paths to address the effects of a traumatic experience. In all of our work we will actively try to prevent women from experiencing further trauma. We will arrange with you a 'safe-word' and safe times for all calls and contact if necessary. What if I decide it's not for me?
If you decide that the support from the Centre isn't right for you that's totally fine – you can come back to the Centre at any time you like in the future if you change your mind or your circumstances change.
What sort of support isn't offered?
We aren't able to offer side-by-side assistance for other appointments and we're not able to offer advocacy outside of the Centre with any legal or medical issues.
It's also important to note that we're not a specialist domestic abuse service (see Juno Women's Aid); we're not a sexual violence specialist service (see Nottinghamshire Sexual Violence Support Services); and we're also not a specialist drug or alcohol addiction service (see Nottingham Recovery Network).