Why might I need support?
Women come to us for all sorts of reasons. These include: feeling isolated, additional disadvantages that make life harder, struggling with accessing support, worrying about financial or accommodation issues, experiencing abuse, coming out of the Criminal Justice System and lots more.
We have a range of courses and activities available from our friendly space in Nottingham city centre. If we feel that you'd benefit from more focused support, you may also be referred to one of our brilliant caseworker team.
We're an autistic-friendly organisation and will do all we can to make your time with us as easy as possible. Just let us know if you'd like a quiet place to wait, or anything else to make your visit more welcoming.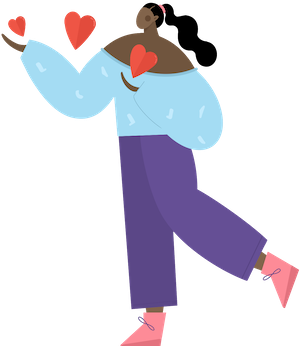 What can we help with?
Support you to access services around housing, employability, training, and debt advice
Signpost you to appropriate services for dependency and recovery
Support you to explore healthy relationships
Explore groups and social activities that meet your needs
Work with you to access domestic abuse and sexual abuse services
Clothes and/or food bank referrals
Support coming out of the Criminal Justice System
You don't need to be looking for support in order to visit us!
All of the courses and activities on our website are open for you to attend, regardless of whether you're already linked in with the Centre. Keep an eye out for our 'coffee and chat' sessions if you fancy something informal – they're a great opportunity to get to know the Centre, meet new people, and grab a slice of cake.
You can also come and visit our Welcome Space for a cup of tea (with friends or alone!) any time you like, during our opening hours. If you want to find out more about what the Centre does, ask Reception for some extra information. If you want to visit Nottingham Women's Library you can also do that at your leisure – no need to book. What if I decide it's not for me?
If you decide that the support from the Centre isn't right for you that's totally fine – you can come back to the Centre at any time you like in the future if you change your mind or your circumstances change.
What sort of support isn't offered?
We aren't able to offer side-by-side assistance for other appointments and we're not able to offer advocacy outside of the Centre with any legal or medical issues.
It's also important to note that we're not a specialist domestic abuse service (see Juno Women's Aid); we're not a sexual violence specialist service (see Nottinghamshire Sexual Violence Support Services); and we're also not a specialist drug or alcohol addiction service (see Nottingham Recovery Network). I've you're a victim of crime you can reach out to Notts Victim Care.
Referrals (from 18th September 2023)
We welcome referrals from all self-identifying women who feel they would benefit from caseworker support at Nottingham Women's Centre. You can self-refer into our services, just give our friendly Reception team a call. If we are able to support you, you'll either be assigned a caseworker or added to a waiting list.
We also accept referrals for casework from domestic abuse services in Nottingham City and Nottinghamshire. If you're a professional working within a domestic abuse service, you can download our information sheets below. Please contact Reception for more information.