We'll be celebrating International Women's Day at the Centre on Tuesday March 14th this year with cake, crafts, creative words and more…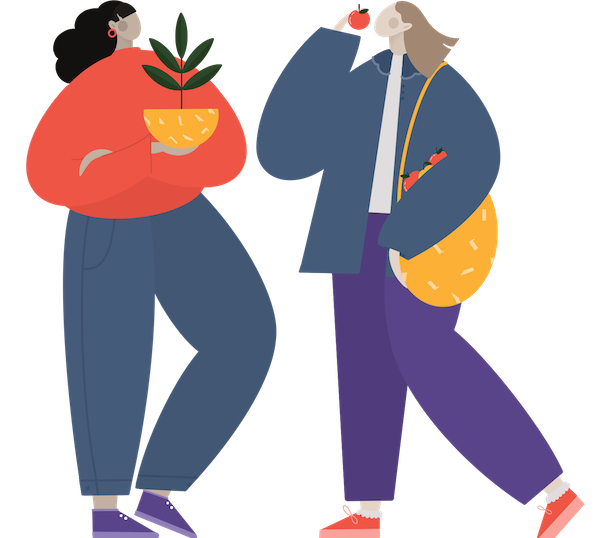 Come along!
When: Tuesday 14th March | 10:30am – 3pm
No need to book, just come along!
What's planned?
10:30am Coffee & Chat: Drop-in anytime between 10:30am-12:30pm for free coffee, cake and some friendly faces. It's the perfect opportunity to visit the Centre and find out more about us if you've never been before, or come and have a social catch-up if you're a regular!
11am-3pm Chat with NCVS about volunteering opportunities: NCVS will be in the Welcome Space throughout the day to chat with you about how to get involved with volunteering opportunities in Nottingham, as well as ways to get involved in the community.
12:30pm: Wellbeing activity with Nottingham Muslim Women's Network: Pop in to Room 4 and say hello to our newest building sisters – the brilliant Nottingham Muslim Women's Network, as they run a small wellbeing activity.
12:30pm Light lunch: As above, you're very welcome to drop-in at lunchtime for some snacks. Why not speak to us about our courses and events or other services whilst you're here? It's a very informal opportunity for you to see the Centre, find out what's going on here and meet and chat with other women (if you'd like to!)
Women Write at the Centre (our fabulous creative poetry group) will also be giving a small performance over lunch!
All day! Nottingham Women's Library: The jewel in the attic – tucked away on the top floor of Nottingham Women's Centre you'll find the wonderful Nottingham Women's Library. Overseen by a dedicated team of volunteers, there'll be a small IWD display in the Library and friendly faces on hand to answer any questions you might have. It's also a lovely quiet place to come and have a rest or breastfeed a baby.
1pm Women Write (poetry workshop): A free, friendly and creative atmosphere as well as a safe space to have your say. Come along to Women Write where women are encouraged to explore their creativity and produce a bit of poetry. This group is for all levels and there are no rules, just respect.
1pm Crafty Club: A friendly informal group where no special skills are needed, Crafty Club encourages you to just come along and join in with some of the craft projects they'll have on offer. You can also have a chat, a coffee and meet new friends in a warm, welcoming environment.
---
There's more!…
We've got lots more things going on in March too! if you can't come along to our IWD celebrations then check out the following instead:
Endometriosis Campaign March is Endometriosis Awareness Month – Don't suffer in silence. Find out more about how endometriosis can affect anyone assigned female at birth and if you think you might be affected, learn how to get support.
Bonington Art Gallery Exhibition (Launch date March 25th – May 13th): An exhibition exploring the rich history of the Centre and the fight for women's rights in the city.
Castle Rock IWD beer launch (Launch date March 8th): Castle Rock is celebrating International Women's Day with, you guessed it, a beer! They've teamed up with Sara Barton of Brewster's Brewery to create a golden ale together – and they're donating 10p of every pint sold to the Centre!
Swing Dash studio is holding a 24 hour dance music live stream with 24 female + non-binary DJ's for International Women's Day in aid of the Centre! The event will be live to watch on their Twitch channel between midday Saturday 11th March to midday Sunday 12th March. There will also be in an in-person watch party on Saturday 11th March 12 noon – 6pm at Running Circle Records at Sneinton Market for anyone wanting to meet up on the day and listen to the live-stream.
Phlexx X Mimm Collective are hosting an International Women's Day event on March 12th with a roster of wonderful female musicians and programming. All proceeds will be donated to the Centre.
South Notts Real Ale Festival This brilliant real ale celebration is also fundraising for the Centre next month.