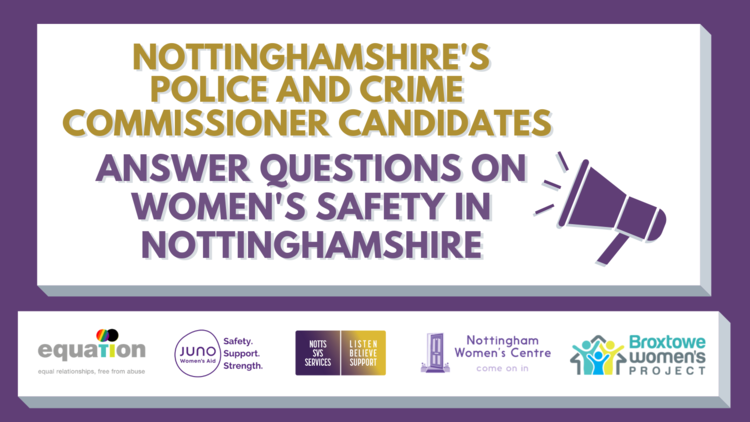 In light of the tragic events surrounding the murder of Sarah Everard and others; the #everyonesinvited campaign about sexual abuse and harassment in schools; and the Domestic Abuse Bill currently making its way through Parliament, we got together with Equation, Juno Women's Aid, Nottingham Sexual Violence Support Services and Broxtowe Women's Project, to write to all of the candidates of Nottinghamshire's Police and Crime Commissioner election with a series of questions.
You can see a copy of the full letter we sent in full to Caroline Henry (Conservative candidate), Paddy Tipping (Labour candidate) and David Watts (Liberal Democrat candidate) here.
Below, you'll find the responses we got back to every question from each candidate. We are publishing these so that women in Nottinghamshire can make an informed decision when they go to vote in the Nottinghamshire Police and Crime Commissioner election on Thursday May 6th.
---
1. Reducing sexual crimes
"How would you help to reduce sexual crimes and help to increase Rape convictions?"

Asked by Nottinghamshire Sexual Violence Support Services
---
Caroline Henry: "My plan to increase rape convictions is twofold: firstly, I will ensure Detective Constables in Nottinghamshire undertake training on the Achieving Best Evidence Guidance; secondly, I will work with local leaders across Nottinghamshire to develop an education package to teach young people about respect and consent.
I truly believe training on implementing the Achieving Best Evidence Guidance will allow those interviewing vulnerable witnesses, such as victims of rape, to get the best possible evidence to submit during legal proceedings, thus resulting in more rape convictions. I know elsewhere in the country Detective Constables receive additional training on how to implement the Achieving Best Evidence Guidance and I want to ensure we have the same here in Nottinghamshire."
Paddy Tipping: "We know that across the country rape and sexual assault is often a hidden and underreported crime. I want to continue working with the specialist third sector and police in tackling these horrendous crimes. A key part of this is about changing attitudes and behaviour, healthy relationship training with young people is a cornerstone and is something I currently fund and commit to continuing to fund.
Secondly is working to expand public understanding around these types of crime. The Consent Coalition is a group of organisations locally who are working together to raise awareness of the importance of consent, banish myths about rape and sexual violence and encourage survivors and victims to access support and report any sexual violence. My office is heavily involved in this work and again is something I fund. Finally is the work done with and by Nottinghamshire police to manage known offenders to ensure they are effectively managed and prevented from committing offences. Nationally there is a task and finish group working to the Prime Minister on rape convictions and I'm pleased to be involved with it."
David Watts: "There are a number of steps that we need to take here. We need to encourage the prompt reporting of crimes. At the moment that still happens in far too few cases. We need to listen very carefully to what is making the experience of reporting and interacting with the system traumatic and address this, in particular ensure that reporting issues isn't time consuming and ensure that a person is treated as an individual rather than that people working with them hold stereotypes. One practical example is the police saying that they need to retain and examine the mobile phone of the victim to see what messages there are on there. Whilst there is a proper and necessary place for disclosure within the criminal justice system we need to consider the victims. Depriving someone of their phone for weeks or even months is simply not acceptable and I will be pushing for an early consideration of how we change this. (The easiest way is probably by cloning the phone so that the victim can have theirs back immediately and the police can still carry out the enquiries that they need to do.)
We also need to tackle some of the myths that are still put about in the media about the experience of victims in court. Many victims worry that their whole sexual background will be gone through in court, and this is what is still often suggested in soap operas and police dramas. The reality is that such behaviour was banned years ago. This all needs to be explained to the public so that victims don't fear further trauma going through the legal system.
The first two options focus very much on the victim but we also need to look at the offenders. We need to deal rigorously with all perpetrators of violence and sexual violence. This includes where they first start, so that there is a zero tolerance attitude to sexual crime. If we can teach children when they are young what is wrong and what is right then they have more chance of remembering that. Where society engages in allowing sexual crimes under the guise of "high jinks, boys will be boys etc." then we teach them the wrong message.
The incredibly low conviction rate for rapes remains a big worry. I do not support reducing the standard of proof required or requiring people to prove their innocence because I have seen no evidence that these would improve the quality of justice at all. What we do need to do is look carefully at how the police handle rape cases, and where a case does not result in a conviction there needs to be a rigorous review to determine what more could have been done. This must include identifying and attending to any errors made by the police. I'm old enough to remember a documentary about Thames Valley police where the victim of a rape was basically bullied and verbally abused by two police officers as she tried to report it. I do believe that we have moved on from then but there is still a long way to go. I absolutely will not engage in victim blaming."
---
2. Improved support to make complaints
"How would you ensure that women have support to make complaints against the Police when necessary?"

Asked by Nottingham Women's Centre
---
Caroline Henry: "I will ensure in my capacity as Police and Crime Commissioner a guaranteed response to complaints made against the police and a joined-up approach across police forces in Nottinghamshire to ensure complaints against the police are pursued to the full extent of the law."
Paddy Tipping: "The Professional Standards Department has been reorganised and has a new female Superintendent in charge. Many of you will know her, and my Deputy Emma Foody has regular meetings to discuss any trends or issues with both her and the IOPC. Emma is willing to give any advice and support possible.

Recently I have provided extra funding and worked with the Chief Constable to do a deep dive to better understand satisfaction rates with the Force by survivors. I am also grateful for the support provided by the specialist sector, both in supporting survivors with all their needs but also in having a relationship with my office which allows for a full and frank exchange of views which allows us and the Force to strive to be better."
David Watts: "I want to ensure that in every interaction with the police people are aware that they have the right to complain if necessary. There must be a regular review and monitoring of the process of complaint and what the basis of complaints are. As a councillor I get details of every complaint made against my council and what the outcome of that complaint is. I want to see that sort of monitoring of police complaints. My experience of supporting a number of clients through the police complaints system is that too often the officers tasked to deal with complaints see their role as protecting the police rather than getting to the heart of what went wrong.
When I am teaching complaint handling, as I have done for a number of years, I encourage delegates to view every complaint as an opportunity to learn. The whole culture of handling complaints within the police needs to change. I recognise that this is a big job but I'm not afraid of big jobs."
---
3. Funding for specialist services
"Will you commit to supporting local domestic and sexual violence services and lobby the government to secure long-term funding for specialist support for the most vulnerable in our communities?"

Asked by Juno Women's Aid
---
Caroline Henry: "At our last Budget announcement an additional £19 million was announced specifically for tackling domestic abuse. This includes £15 million in 2021-22 across England and Wales to increase funding for perpetrator programmes that work with offenders to reduce the risk of abuse continuing. This is a fantastic commitment by the Government, but more can be done.
If elected PCC I will make sure to always stand up for those who need my help and support; as well as ensuring the Government continues to increase its funding to charities and organisations that support those suffering from domestic abuse."
Paddy Tipping: "Violence against women and girls has always been a priority for me, I was involved is setting up the first Women's Refuge in Nottinghamshire back in the 1970s. The funding for support services for domestic and sexual violence services has doubled. I'm particularly proud of the sexual violence service which was launched at the beginning of this year. The service was co-designed with partners and survivors. Building work on a new Sexual Assault Referral Centre (SARC) will start shortly.
Earlier this month I wrote on behalf of all Police and Crime Commissioners to the Lord Chancellor making the case for sustainable long term funding. I also acknowledge, recognise and endorse the research that has been conducted by the sector nationally around the current underfunding of services, and commit to continuing to campaign for that cost to be met on a sustainable footing."
David Watts: "Yes. In fact I would like to do more than that. If elected I will implement research on work with perpetrators to reduce and prevent violence too. As I mentioned earlier I am all about evidence based policing and so looking at how we can prevent people offending in the first place is an important part of the work, as well as ensuring we properly protect and care for victims of crime."
---
4. Support for minority groups
"How do you plan to support minority groups affected by domestic abuse such as male survivors, LGBTQ+ survivors, and BAME survivors whilst also supporting the need of female survivors?"

Asked by Equation
---
Caroline Henry: "Domestic violence sadly reaches all parts of our society and it is vital that when discussing ways to help all those who have and are suffering we include everyone in the conversation. So it is my belief that the support I give as PCC should be driven from discussions held by organisations and individuals who know better than anyone else the support that they need."
Paddy Tipping: "My recently published VAWG strategy recognises the need for a gender informed approach to tackling domestic abuse. It also recognises the needs of individual communities are not monolithic and are both different and intersectional. Funding is available locally for a service for male survivors via Equation, and I am proud to have funded and supported the wider third sector to build links and trust as well as being responsive to the needs of different communities. I'm certainly not complacent, I recognise there is more work to be done in this area going forward, as well as committing to developing that extra capacity in the specialist and wider third sector to deliver and meet the needs of communities."
David Watts: "I put this question to a friend of mine who is both LGBTQ+ and BAME, and who has spent much of her life working for minority rights both within government and the wider community. Her response was very simple and I'm not sure I can do better: "Fund services for them and ensure that there is parity of funding." I can't as a white straight male say that I know what the particular needs are of each group, but I can say that we will ensure that those who do know have the resources to provide those needs. I will also listen to the experience of minority groups so that I can start to understand."
---
5. Training
"How will you ensure that robust, specialist training on domestic abuse is embedded within the Criminal Justice System to ensure that survivors are supported and prioritised?"

Asked by Broxtowe Women's Project
---
Caroline Henry: "I am proud of the record the Conservative Party have in recognising domestic abuse. Not only is coercive and controlling behaviour now a crime, but crucially this week the Domestic Abuse Bill was passed – both legislative acts will have a profound effect on victims of domestic abuse and their experience with the Criminal Justice System.
As I have said time and time again in my campaign, I want to back victims not criminals. To do this, I will continue to develop relationships with women's groups across Nottinghamshire that work tirelessly to support domestic abuse survivors and listen to them on how to further improve the experience of domestic abuse survivors within the Criminal Justice System."
Paddy Tipping: "Ensuring an understanding of domestic abuse is key to supporting survivors in the Criminal Justice system, which is why I was disappointed to see the Government reject an amendment to the Domestic Abuse Bill that would have ensured all Family Court Judges received such training. I would urge them to reconsider.
Nottinghamshire police were one of the first forces to provide Domestic Abuse matters training to all officers, and also delivers initial and refresher training for new recruits on domestic abuse. There are also regular discussions at the Regional Criminal Justice Board which Emma attends, where we strive to improve the system to further meet the needs of women."
David Watts: "An important part of this question is that it recognises that training is needed throughout the CJS and not just within the police. I would ensure that we develop or bring in an effective system which can be rolled out to the police, magistrates, judges and lawyers. I won't be able to compel the latter groups to attend but I can negotiate and discuss with them the best way to encourage people to do so.
All solicitors and barristers taking on cases with children now have to undergo specialist training before they do so, and there is no reason why this can't be expanded to cover sexual assault cases and domestic violence cases as well. That would need to be negotiated with the Bar Standards Board and the Solicitors Regulation Authority and would need to be on a national scale, but there is no reason why the initiative for this cannot come from Nottinghamshire."
---
6. Improving accountability
"How will police officers be held accountable for actions that aren't in line with serving and protecting the community?"
---
Caroline Henry: "If elected PCC I will be tough on all crime no matter the perpetrator. If a police officer commits a crime then they should be prosecuted to the full force of the law and I will make sure to enact this if elected."
Paddy Tipping: "Both Nottinghamshire police and myself take a strong position on inappropriate behaviour by both officers and staff. It's very important, happily it is rare and where it has happened we've taken action resulting in a number of officers have been dismissed."
David Watts: "I've already spoken about the need to have an effective complaints process and this is another aspect of it. We need to look at the satisfaction of complainants with the outcomes of the complaints process. That will provide the data to assess how we are doing. I trained as a criminologist as well as a solicitor and I'm very aware that cold facts and figures can sometimes hide deeply troubling experiences, so whilst those figures are important I would want to assess them along with more detailed feedback from individual complainants."
---
7. Reducing sexual harassment
"What measures are going to be put in place to ensure women feel safe on the streets of Nottinghamshire?"
---
Caroline Henry: "Over recent weeks, many women have shared their stories online regarding feeling unsafe on our streets and these have been both powerful and concerning. As a woman I related to so many of the fears and concerns held. The stories women shared from holding their keys between their fingers at night, to having their phone close to hand are far too familiar for many women, as well as myself.
Every woman in this country should feel safe to walk on our streets without fear of intimidation, harassment or violence. Changes to this will not be instant but I believe that there are changes that can be made. Making sure: that areas are properly lit, that police have a strong presence and that perpetrators are brought to justice, are just some of the measures I will focus on."
Paddy Tipping: "I was delighted to work with the Women's Centre and other partners to ensure Nottinghamshire Police were the first force to record misogyny as a hate crime back in 2016. We've continued to campaign together and made progress nationally. As this is about changing attitudes and behaviours, there is more to be done. I responded to the recent consultation by the Law Commission consultation strongly supporting the need for primary legislation in this area.
Stalking for too long has been under recognised across the country. Nottinghamshire police have led in this area with the 'Stalking Clinic' where specialist officers come together to tackle incidents of this crime. Additionally I currently fund a specialist stalking support service to victims, a co-produced response with the specialist sector.
I also want to make reference to the appalling events earlier this year in London with the tragic death of Sarah Everard. Although we don't yet know the true details of what happened, we know there are too many incidents like it. I'm actively bidding for Safer Streets funding from the government for a range of measures to help women feel safer such as better lighting and CCTV. With partners more CCTV has been provided on the Forest. A review of CCTV provision across the city and county has recently been recommissioned.
Women need to feel safe – we are on their side and we are on the case. Almost uniquely, we've worked with the leisure industry to provide better training for doorstaff. A number of venues have introduced "Club Crew" inside to provide support and security. We also work hard with venues and local partners on initiatives such as safe spaces and street pastors to provide women with more confidence when on a night out."
David Watts: "First I have to say that I'm delighted we already treat misogyny as a hate crime in Notts, and that other forces are following our initiative. I was dubious about whether this would work when it was first introduced by the police and I'm delighted to have been proved wrong.
In addition there are a number of practical steps that we need to take. The first and most obvious is to ensure that we have highly visible and supportive police day and night, so that women know that protection is there. I am very keen on community policing so every community knows who their local police are and where to contact them. Having officers on the beat and not just driving round in patrol cars helps make people feel safer.
I am also very interested in developing "safe spaces" where people can go day and night and know that they will be able to find help and a place of safety. This might be something as simple as requesting a particular drink in a pub, with the bar staff recognising it as a code, or may on occasions need more. I support designing out crime, so when new developments are being built I encourage developers and planners to think about how you would feel walking through the area at night. Is it well lit? Is it overlooked by housing? etc.
Finally we need to encourage women in particular to report crime, and there needs to be a detailed focus on the types of crime being reported, locations and times of day. This will give us the evidence about where problems are so that they can be tackled.
The England and Wales Crime Survey suggests that over half of all crimes are never reported to the police, often because the victim fears that they won't be believed or that the police won't take it seriously. This feeling is often right but it is an attitude in the police that we must change.
---
8. Addressing discrimination
'"Do you believe there are any systemic or cultural issues at play within Nottinghamshire Police which affects the way they work with minority ethnic and working class communities?"
---
Caroline Henry: "If elected PCC I plan to work with our diverse community in Nottinghamshire to find out if there are any systemic or cultural issues at play within Nottinghamshire Police which affects the way they work with minority ethnic and working class communities. Personally my background is working class and my family is ethnically diverse. I will not hesitate to challenge any issues."
Paddy Tipping: "Following the tragic death of Stephen Lawrence, I was involved in setting up the MacPherson inquiry. Since then some progress has been made but this remains a priority for me. The number of BAME officers has doubled over the last two years. 25% of all new recruits are from a BAME background. Nottinghamshire Police will be the first force in the country to have a workforce that reflects the community it serves.
In addition, stop and search rates remain amongst the lowest in the country with the highest positive outcomes. I have an established process of talking with BAME communities."
David Watts: "Yes, every organisation has systemic and cultural issues. All do and I am determined to address these by listening to all minority, under represented, marginalised groups and their representatives and acting upon what I hear. I have zero tolerance for racism and want to challenge all other discriminatory behaviours and attitudes."
---
9. Protecting women who defend themselves
"What will you do to protect women who defend themselves against abusive partners from being charged with assault?"
---
Caroline Henry: "There are several defences available, in law, to those who commit offences in circumstances connected with their involvement in an abusive relationship. This includes the full defence of self-defence. I do welcome the fact that the definition of domestic abuse in the Domestic Abuse Act should assist with clarifying the wide-ranging and malicious nature of domestic abuse and alerting all those involved in the criminal justice system to it. It is right that in any case, where it may be relevant, the defence of self-defence is fully examined."
Paddy Tipping: "Charging decisions are taken by the Crown Prosecution Service rather than for me as PCC. We are however, all aware of the substantial interest across the criminal justice system of the position of women forced to defend themselves. This needs to be reflected in charging and sentencing decisions."
David Watts: "This is tricky as I do not believe the Police and Crime Commissioner should be involved in day to day operational police decisions, otherwise we really are politicising the police. What we need to change is the culture and approach of the police. Too often they begin with the assumption that everything is a crime, and that the winner must be the guilty party. This leads to women who have taken years of abuse and who snap and either injure or kill an abusive partner being treated throughout as the criminal. Changing the approach so that the police approach matters with a genuinely open mind would be a big step forward. In addition we need to review police procedures on these matters and ensure that they are carefully implemented. This includes ensuring that there is adequate provision of safe houses, safe spaces and provision for people liable to be assaulted."
---
10. Policing Bill
"If you are elected, do you plan to make any changes to how protests in Nottinghamshire are policed in the context of the Policing Bill?"
---
Caroline Henry: "In order to ensure protests are policed according to the Police, Crime, Sentencing and Courts Bill, I will ensure the police are adequately equipped to manage highly disruptive protests. It is only right the police are able to manage protests in a necessary and proportionate way where protests have caused unjustifiable disruption and distress to other citizens – I will support the police in any way I can when police officers are exercising their lawful duty."
Paddy Tipping: "The Police, Crime, Courts and Sentencing Bill is comprehensive. It will take at least a year to work it's way through Parliament. There are some strong proposals in it, but it says nothing about violence against women and girls.
The proposals that limit proposals are a real concern and the Home Office is already aware of my opposition. I'm already working with colleagues to amend and improve the Bill.
Nottinghamshire has a good record when it comes to protests. Both last year's BLM protest and the local 'Kill the Bill' protests passed without incident. The police worked closely with protest organisers and the city council to ensure that these were positive events.
One of my favourite images is the contrast the photos of police officers restraining and arresting women on Clapham Common with the photo taken of a female Nottinghamshire Police Officer lighting a candle in memory of Sarah Everard at an event arranged by women at the Brian Clough statue."
David Watts: "The right to protest is vital in a democratic society. The police should not be used to try and take this away. The policing bill is the single worst piece of legislation presented to the houses of parliament in the last 200 years. If elected I have no intention of allowing the police to be used as a tool of repression or of restricting the right to protest. Peaceful protest is vital for democracy to work."
---