Bethany and Angeline, our most recent placements, report on their experience of attending Nottingham Women's Centre AGM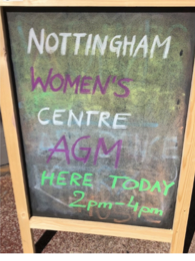 This year's AGM for Nottingham Women's Centre took place on the 26th June 2018 and was the first AGM for the centre that was open to the public. Opening the meetings for the public fosters increased involvement with the centre's work; therefore, creating greater ties with the community allowing the centre to highlight their campaigns and work to gain more support.
The AGM was held at City Arts in Hockley, Nottingham which allowed Nottingham Women's Centre to support a partner organisation in the city and was also appropriate to display the mural created by Diana Ali and other NWC volunteers; however, due to the large turnout a bigger venue would be needed to be considered for next years AGM.
During the AGM, Nottingham Women's Centre members voted for the new trustees that put their names forward this year. All of the candidates were voted in unanimously, with each trustee bringing relevant and varied experiences from their respective careers.
The trustees elected at the AGM are as follows:
Melanie Jeffs, who is currently the library director at Bromley House Library after being manager of Nottingham Women's Centre for 6 years. Melanie put her self forward as treasurer due to her experience dealing with large budgets and financial reports.
Diana Ali, a local artist, international curator, arts educator and creative mentor.
Katy Dunne who has 15 years of experience working in the public sector in Notts, including community safety and with domestic and sexual violence and mental health services.
Zaqia Ghafoor, a qualified mental health social worker and currently a mental health advisor at Nottingham University. Zaqia previously volunteered at NWC for 12 months in reception.
Deborah Gordon-Brown, a practising solicitor and partner in a national law firm.
Rebecca Langton, executive officer to the leader of Nottingham City Council. Rebecca was previously the deputy manager of the Nottingham and Nottinghamshire refugee forum.
At the AGM the mural created by Diana Ali, a Nottingham based artist, and NWC volunteers was unveiled. This piece of artwork will be displayed in other locations throughout the city such as the Nottingham Contemporary arts centre.
Various Nottinghamshire organisations and NWC partners presented at this years AGM, highlighting the work they do, achievements from the past year and plans for the future. Among these organisations were BAse 51, Muslim Women's Network, POW and more.
Partners present at the AGM:
Lyndsey Harris from the University of Nottingham presented her 'empowerment through research' project that aims to accumulate the views and experiences of Nottinghamshire women.
Base 51 who support young people aged 12-25. They provide a supportive environment to help young people with self harm, hate crime, self expression through arts, sexual health and more.
KAIROS, who supports lesbian and bi sexual women seeking asylum and those with refugee status to gain secure their immigration status and take up opportunities to live, work, study and socialise in Nottingham.
NCVS, who work with women and LGBT+ organisations in Nottingham providing organisational support around funding and governance.
LGBT+ Network  who offer a 5 night a week helpline, community newsletter, active social media presence.
Nottingham Muslim Women's Network,  speaking about campaigning and increasing visibility of Muslim women in Nottingham as well as one to one and groups with women that you offer. NMWN  provide activities for women and girls (over age 13) from all faiths and backgrounds as well as support and sessions around a variety of issues including domestic violence, honour based violence, forced marriages, sexual exploitation and more.
Notts SVSS (Nottinghamshire Sexual Violence Support Services) – speaking about the counselling groups they offer and campaigns around enabling anonymous voter registration and Reclaim the Night. Notts SVS Services offer specialist counselling and support for survivors of sexual violence, aged 13+, living in Nottinghamshire.
POW works with sex workers, also campaigning on sexual exploitation. POW  support sex workers by providing peer mentoring and volunteering opportunities to support lifestyle changes.
As part of our student placement at Nottingham Women's Centre we created badges and hashtags for attendees of the AGM to choose from and wear. These gave people a conversation starter as they discussed the meaning behind the hashtags. The aim was also to spread awareness of NWC campaigns as people take away the badges and possibly continue to wear them! In total we made 115 badges with 6 different hashtags and topics represented, for example the #TimesUpNotts and #NottACompliment campaigns.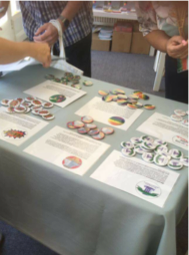 After the formalities of the AGM were over guests were free to enjoy a selection of cakes made by a local caterer and smoothies they could make themselves by pedalling on a smoothie bike!  In order to gain feedback and people's views after the AGM there was a board available with post-it notes so attendees could leave their thoughts and opinions of the AGM and the Centre; this was a quick and easy way of gathering helpful feedback to improve future AGM's!
One improvement for next years AGM would be to consider larger venues as mentioned earlier, this would meet the large interest shown in the event and allow for more guests. Another possible addition to AGM would be a greater focus upon Nottingham Women's Centre's services and achievements to go alongside the presentations from partners; this could possibly be done through a slideshow of pictures celebrating recent achievements of the staff, volunteer and members of NWC.
Overall, the AGM was an enjoyable event that celebrated the work being done by organisations across Nottingham. The significant interest shown in the event by the public was encouraging to see, showing there is an active interest in the welfare of women* in Nottinghamshire. Hopefully next years AGM will be just as well attended and enjoyable, celebrating even more of Nottingham Women's Centre's invaluable work.
---