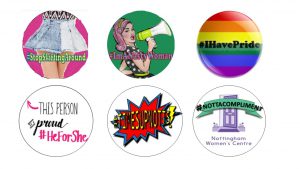 If you're attending our AGM next Tue, then make sure to pick up one of our badges – wear them proudly, let us know when you're wearing them by sending us a #selfie on twitter to @nottswcentre or  by email to aga@nottinghamwomenscentre.com.
#StopSkirtingAround
Currently in England and Wales there is no law specifically naming and banning upskirting despite upskirting having been an offence in Scotland since 2010. Victims and police are currently only able to pursue offences of outraging public decency or as a crime of voyeurism.
Gina Martin, a victim of upskirting, started a campaign after 2 men took a picture up her skirt but weren't prosecuted for it. During a House of Commons debate on the proposed bill on 15th June 2018, conservative MP Sir Christopher Chope objected to the bill "on principle" and his intervention was met with shouts of "shame" from other MP's. Theresa May has responded to the objection of one of her MP's saying she is "disappointed" and wants to see the bill pass soon "with government support".
Wear the #StopSkirtingAround badge proudly to: show support for Gina Martin's campaign to make upskirting a criminal offence.
#ImANastyWoman
During the third presidential debate, Donald Trump was seen muttering, apparently to himself, "Such a nasty woman," while Hillary Clinton answered a question about social security. Trump made this remark despite asserting in his final presidential debate that "no one respects women more than me". It didn't take long for #IAmANastyWoman to catch on among Trump critics as an ironic rebuke of his insult.
Wear #ImANastyWoman badge proudly if: you are a woman who can be described as tough, powerful, dynamic and is unafraid to call it like it is.
#IHavePride
During Pride LGBT people celebrate their self-affirmation, dignity, equal rights, their visibility as a social group, community, sexual diversity and gender variance. Promoting pride is the opposite to feeling shame and social stigma about your identity and sexual orientation. Pride month is celebrated in June to honour the Stonewall riots in Manhattan in 1969 – These were a tipping point for the Gay liberation movement. A raid took place at the Stonewall Inn at Greenwich Village Manhattan- the raid was about LGBT people calling for more spaces where they could openly be gay. The riots led to 2 LGBT activist groups being formed 'Daughters of Bilitis and Mattachine Society' which spread throughout the world – memorials are held during the month from those that died of HIV/AIDs or lost to hate crimes. Brenda Howard known as the 'Mother of Pride stated the first LGBT pride march which began LGBT celebrations and kept the trend for them to be celebrated in June. Important to recognise the impact the LGBT+ movement had on history locally, nationally and internationally.
Wear #IHavePride badge proudly if: you are proud of who you are!
#HeForShe
The HeForShe solidarity movement was created by UN Women and made most famous by Emma Watson's UN speech. HeForShe is a campaign to get men involved in the fight for gender equality, calling for their solidarity and support. Watson noted the all-too-common misconception that feminism is synonymous with man-hating and, unfortunately, it seems many men still feel this way. Being male and a feminist are not mutually exclusive.#HeForShe
HeForShe invites people everywhere to come together as equal partners to craft a shared vision of a gender equal world and implement specific, locally relevant solutions for the good of all of humanity.
Wear #HeForShe badge proudly if: you are a man who believes in gender equality
#TimesUpNotts
Sexual harassment at work has to stop. In Hollywood, a collective of women have been raising funds to support the legal cases for less powerful and wealthy women in all industries in the US. Birmingham MP Jess Philips has been talking to the Fawcett Society and other groups about setting up something similar in the UK.
Here in Nottinghamshire #TimesUpNotts is a network of women taking action to end sexual harassment at work in Nottinghamshire.
Wear #TimesUpNotts badge proudly if you believe that: the time has run out on sexual assault, harassment and inequality in the workplace and it's time to do something about it.
#NottACompliment
#NottACompliment is a message to make everyone aware that misogyny in Nottingham is a hate crime. Nottinghamshire Police made history in 2016 as the first force in the country to recognise misogyny as a hate crime. The additional category applies to incidents ranging from street harassment to physical intrusions on women's space. In the first year, 97 incidents were recorded. This milestone achievement arose from work by Nottingham Women's Centre and Nottingham Citizens.
Wear #NottACompliment badge proudly if: you recognise misogyny as a hate crime.
---