From time to time, Nottingham Women's Centre, provides opportunities for university students to work at the centre. The last couple of months, we've had the pleasure of working with Bethany and Angeline. Here they report on the various tasks and activities that they've been involved in during their placement:
Tweets
Our first task at Nottingham women's centre was assisting them to expand their social media platform. We were tasked with creating 250 tweets for the centre to timetable into hootsuite which is a social media platform used to and manage organisation's online presence. This task was helpful because it allowed us to have a better understanding of how to present the organisation's values, motivations and raise awareness on social media using hashtags and statistics. To complete this task, we started by collecting info from Nottingham Women's Centre's website, we also looked at previous staff handbooks and their policies on trans inclusion. We also found it helpful to take inspiration from other women's centres to find out more about awareness campaigns and to find out why Nottingham Women's Centre is unique. To highlight the importance of awareness about campaigns about domestic and sexual abuse, gender specific mental health and women offenders we drew upon national statistics produced in reports by government departments. Overall, we managed to create 186 tweets within a week and a half which was a useful time frame because it allowed us to balancing other tasks that we had been given. Unfortunately, we were not able to reproduce the given requirement, but this was a helpful learning curve because it allowed us to confront the possibility in work that we cannot always complete everything that is asked of us. We also wanted to ensure that our tweet content was high quality rather than reproducing the same material.
Duplicating booklet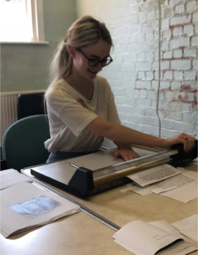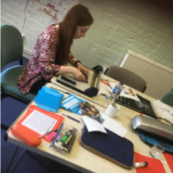 It has been so refreshing to volunteer in an environment which values the history of local women so deeply. This was reflected when we were given the task of duplicating booklets produced by Nottingham Women's History Group which aimed to spread the legacy of Nottingham women. We duplicated 25 copies for any volunteers/members/service users to enjoy which gave us new kills in understand photocopiers and challenges that come with it!
Exhibition
Our favourite task and the one that we dedicated most of our time to was to create an exhibition exhibiting the impact that local Nottinghamshire women have had on our county and country. Creating a Nottingham specific exhibition seemed more in line with Nottingham Women's ethos because it celebrates our cities local history and highlights the achievement of women on a more focused scale, rather than a generalised nationwide exhibition. We started by planning different categories of women that we wanted to exhibit for example, BME and LGBT women, women in male dominated industries and working class women. Gathering information from various sources, for example, using LGBT archives, heritage sites, dissertations and newspaper articles.  During the exhibition we encountered problems with finding dates, pictures, categories of women with working class and LGBT backgrounds. Despite this, problems with finding information is still valuable because it outlines the lack of history from marginalised backgrounds and gave us more reason to celebrate these women's histories. In terms of structure, we ordered the exhibition chronologically to emphasise the wide time span of women's achievements in Nottinghamshire.
We wanted to highlight 10 women in particular to emphasise their achievements. We ensured that the top ten women came from different categories to ensure that we were not marginalising or excluding women's histories. When producing the exhibition, we made sure that all the text and pictures were the same size and format to ensure that our exhibition was in a uniform style. During the production process we were able to expand on our skills when putting together the exhibition by using the guillotine and laminator to ensure our exhibition's longevity. We were instructed to produce the display on the stairwell, we aimed to use every stairwell to exhibit the achievements of Nottinghamshire women. Using our phones, we took photos and videos for Nottingham Women's Centre's social media platforms to draw attention to the new display. We hope that the exhibition will be educational, a talking point, and something for Nottingham Women's Centre's visitors to enjoy.
Badges
We were given the task of creating badges for the visitors to choose from at Nottingham Women's Centres AGM. The badges were supposed to display topical hashtags that outlined Nottingham Women's Centres campaigns and nationwide feminist campaigns. We enjoyed this task because it allowed us to expand on our creativity skills which we do not get to do much within our degrees. We started by selecting six different hashtags which were fit for different groups of people. We selected hashtags in line with Nottingham Women's Centres campaigns such as #NottACompliment and #TimesUpNotts.  We also used the UN supported hashtag #HeForShe for the male attendants at the AGM. Finally, we drew upon national campaigns such as #ImANastyWoman which is a statement against Donald Trump and #StopSkirtingAround to highlight the issue of upkirting which was very topical at the time. To accompany the badges, we also produced a laminated description to outline why we chose these campaigns and what they were about. It was very enjoyable to design the badges and helped us to expand our skills on publisher and other software, we also were able to learn how to use a badge maker. Overall, we were proud of the finished product because these badges acted as a conversation starter and also to spread awareness about campaigns as people could take away the badges and possibly continue to wear them! In total we made 115 badges.
#EqualiTeas
During our placement we also helped shadow two of the events staff (Katie and Jo) to host the EqualiTeas event. This was a government supported event which aimed to promote conversations about democracy amongst women and to challenge gender related issues like the underrepresentation of women in democracy and the fall in female turnouts on polling day. During the event we drew upon our new badge making skills to help women make badges which established more creative conversations about women in democracy. Throughout the event we assisted with refreshments and encouraging women to write on buntings about their thoughts on women's role in politics for a display.
Blogpost for AGM
Whilst we were on placement at Nottingham Women's Centre their annual AGM was scheduled to take place and it was the first one to be open to the public. We found this to be an enjoyable event that gave us greater insight into Nottinghamshire organisations that do amazing work in the local community. Throughout the AGM we took photos of the various displays and signposts and were asked to create a blog post reflecting on the AGM's success. This was the first professional blogpost for an organisation that we had produced; therefore, this gave us experience producing online content for an organisation. In the blog post we highlighted the work of partners who attended as well as mentioning the new trustees of Nottingham Women's Centre who were voted in at the AGM. To conclude the post we discussed possible improvements that could be made to make next year's AGM even more of a success!
---