"What do we want – SAFE STREETS – when do we want them – NOW!"
What a fabulous sight: hundreds of women marching down Mansfield road on a Saturday night, protesting against
male violence towards women and girls. The atmosphere was absolutely electric as the group handed out leaflets to on-lookers and passing cars and buses hooted their support. Girls and women of all age came along to join in, one 6 year old even decked herself in glow sticks and blew her whistle all the way down, attracting big smiles and waves from people in the restaurants along the route
As we walked we spoke to some of the women taking part to ask why they thought the march was important. Some felt that for them it was about making their community safer for women and families to be out and about at night. Others felt passionate about challenging the wider political agenda that often holds the victims of male violence accountable.
One woman said "I don't like coming into town after dark, I have to plan my routes and know where I'm going and I still shake from the bus to the meeting point. Coming together in a group like this means I can walk confidently through the streets. I feel amazing tonight."
Several women had never attended Reclaim the Night or indeed any protest before. Victoria, a first-timer, told us "I've never marched before and I will definitely come again, I loved it. It felt great to be part of a collective action." Another protester, Zaynab, felt very strongly about making a stand and encouraging the younger generations, saying, "I brought my nieces with me, I want them to be active campaigners for change when they get older."
There was a bit of heckling from some drunk men, which was dealt with amazingly well by the NTU Feminist Society who diverted them away respectfully and assertively, leaving us to march on freely and undisturbed.
Once at Market Square there was a rally which was entertained by aROARa, a drama collective of over 15 women, many of whom had never performed before. One participant, Helen, was overjoyed to be involved saying, "I am usually quite anxious but tonight I performed in front of a huge crowd and didn't get nervous at all. It was awesome!
The rally was also supported by speakers from Muslim Women's Network, Women's Aid Integrated Services and local activists, who made a call to action to stand together and say STOP IT! No more male violence. We also held a one-minute silence to remember all the women killed by their partners or ex-partners, highlighting just how important it is to protect the funding of refuges and prevent these femicides from happening.
After that it was back up the hill to the Women's Centre where we were met by the smell of hot soup bubbling away. This also gave us the opportunity to warm up and get to know more of the wonderful women we'd been marching with.
The Women's Quilt, featuring the 598 women who were killed through femicide from 2005-2015, was also on display. This piece prompted lots of debate and was something we found quite moving. As we finally all left at the end of the night there was a great feeling of unity between us and I'm sure this was a Reclaim the Night we would all like to remember.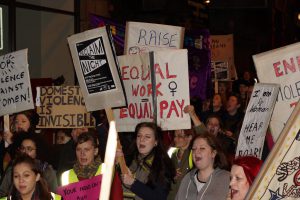 ---